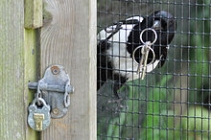 mollie murphy
The photographs I take and the sculptures I make
begin with the impulse to show the viewer a particular object.
"Look at this", I want to say.
"Look what you can collect,
image and object,
if you walk through the world
with your eyes open.
Look at all of this meaning."
When I reframe the taxidermied primate in the museum study case or
zero in on particular merchandise in the dollar store or
sneak up on the kissing porcelain couple in the darkened period room
I am asking the viewer to walk through the world with me and
see how it looks when one re-contextualizes it.
If we create another frame through which to view the objects we encounter, what will those objects communicate?
They are powerful makers of culture and identity.
When I collect discarded things and remake them into new sculptures,
I am also placing objects in a new context.
The sidewalk, street and field offer up their beauty for the taking:
ragged and wonderful, fragment of metal and flattened object.
I collage scraps together into a seamless pairing.
The sculptures grow out of the process of play
and are reworked as new pieces while still retaining some
memory of their original form or function.
My process is dependent on working both inside and outside of the studio,
but in both places I pay attention to the way
in which our identities are inextricably
bound up with the things we collect, display, cherish,
and throw away.
The material world is filled with our metaphor and reveals our purpose.